Leigh fire crew help save baby who stopped breathing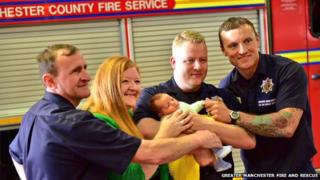 Firefighters have been praised for helping to resuscitate a three-week-old baby boy who had stopped breathing.
Francesca Lowe realised her son Thomas was in trouble at about 11:00 BST on Saturday and pulled her car into Leigh Fire Station in Greater Manchester.
Crew members, who were training in the yard, immediately provided first aid and Thomas's breathing soon restarted.
Watch Manager Matt Keogh paid tribute to his team: "They did a great job and were very professional."
"The woman was passing the fire station and pulled in, hoping we could help her," he explained.
"She was obviously upset, as was her daughter who was with her.
"The crew grabbed a first-aid kit, took the baby into the engine house and helped to get him breathing again."