Two held over Oldham manager Darren Kelly death threats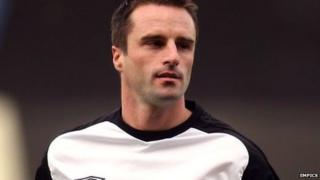 Two men have been arrested over alleged death threats against the manager of Oldham Athletic Football Club.
The club reported the death threat against manager Darren Kelly, 35, to Greater Manchester Police after receiving a letter on Monday.
Police said a 27-year-old man and 42-year-old man had been arrested on suspicion of making threats to kill.
The force said it was expecting to make further arrests and called on one man in particular to come forward.
Kelly, who was appointed as Oldham manager last week, has had to deny claims he supported the IRA after he reportedly called Sinn Fein politician and Northern Ireland Deputy First Minister Martin McGuinness a "legend" on Twitter.
Kelly, who is from Northern Ireland, made the comments after Mr McGuinness retweeted a photo of him meeting the Oldham boss's mother at an event marking the 43rd anniversary of Bloody Sunday in Londonderry.
Det Insp Jason Byrne said: "The letter sent to the club made some extremely serious threats to a number of individuals and we are treating this matter with the utmost seriousness.
"We are also aware of equally vitriolic comments that have been made on social media and this too forms part of our investigation."