HMP Manchester 'one of the best inner city prisons', report finds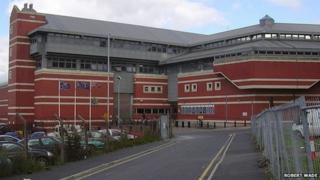 HMP Manchester is "one of the best inner-city prisons" and is making progress despite a "challenging" population, a watchdog has found.
HM Inspectorate of Prisons said it had "solid, longstanding strengths".
Its report - published after an inspection - warned the number of suicides there remained high, but added that the issue was being addressed.
HMP Manchester, previously known as Strangeways, holds a number of high-risk category A prisoners.
The report said the prison was coping well with staffing shortages and healthcare was generally good.
Quality of learning, skills and work was found to be good and the use of force was "low".
Inspectors said they were concerned to find that more prisoners "felt unsafe" compared to a previous inspection and there was an increase in violent incidents.
The prison also struggled to meet the "basic needs" of some prisoners with profound disabilities.
'Better placed than most'
The Chief Inspector of Prisons in England and Wales, Nick Hardwick, said: "HMP Manchester is one of the best large, inner-city Victorian prisons and we have now found this to be so over two inspections.
"We still have some significant concerns and there is more the prison needs to do, but it has solid, longstanding strengths.
"It is better placed than most to continue to make progress and weather the pressures ahead."
Michael Spurr, from the National Offender Management Service, said: "The report identifies areas where further improvement is required and the governor and her staff will use the report's recommendations to address these over the next 12 months."
Built in 1868, Strangeways was badly damaged during a 25-day protest against prison conditions in 1990.
Repairs to the building cost £90m, with the site later reopening as HMP Manchester.