Man snatched girl, 2, from mother on Hyde street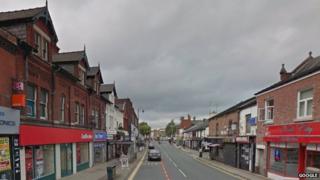 A man snatched a two-year-old girl from her mother before she managed to wrestle her back, police said.
The incident happened at about 14:20 BST on Monday as the woman and her daughter were walking on Market Street in Hyde, Greater Manchester.
A man crouched down in front of the child and started talking to her and her mother, police said.
He then picked her up and began walking quickly towards the market but her mother gave chase and took her back.
'Disturbing'
The man carried on walking in the same direction.
He is described as being of Indian appearance, about 5ft 11 tall, and slim.
He has short dark hair, possibly receding, and is believed to be in his late 30s or early 40s.
He has brown stained teeth and was wearing a pink and white horizontally striped polo shirt with blue jeans which had gold studs around the back pockets.
Det Con Anna Barker said: "Clearly this is a disturbing incident and I know members of the public will be worried when they hear news of this taking place.
"If there are any witnesses that saw this man after he walked off through the market place, or if you recognise him from the description - he was wearing a very distinctive jumper - then please get in touch with us so we can identify this offender as soon as possible."
Anyone with information is asked to contact police or Crimestoppers.