Students occupy University of Manchester in protest over cuts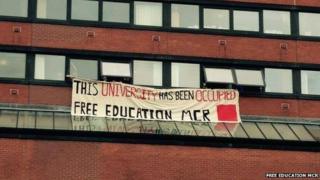 About 30 students are occupying a University of Manchester building in a protest over government cuts and fears that tuition fees could rise.
Free Education MCR said it first took over the Harold Hankins building in Manchester Business School at about 15:00 BST on Wednesday.
One of the protesters said they intend to stay until their demands are met.
The university said that while it supports peaceful demonstrations, the protesters' actions were "disruptive".
The group said it needs to fight rises in tuition fees, cuts to further education, and scrapping disabled students' allowance.
One of the protesters, who asked not to be named, said the university was becoming "increasingly more about making money than providing quality education".
'Educate ourselves freely'
He said they chose to occupy the disused Harold Hankins building because it was being redeveloped into a £50m hotel and executive education centre.
The group wants to reclaim the space "to educate ourselves freely", he said.
Free Education MCR said a solidarity demonstration was also being held outside the building on Friday.
A University of Manchester spokesman said: "The university supports the right of anyone to demonstrate peacefully within the law; however, the occupation of university buildings disrupts the daily running of the institution.
"A number of students are occupying a room in the Harold Hankins Building and are free to leave any time they wish."
Greater Manchester Police said that while it was aware of the occupation, the university's security department was currently dealing with it.