Ellenroad Engine House in Rochdale under threat of closure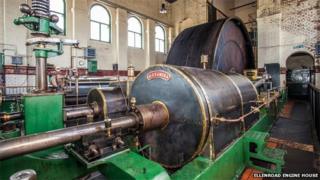 A steam museum which houses working engines from the Industrial Revolution has said it may have to close because of an unexpectedly high utility bill.
The Ellenroad Trust, which looks after the Ellenroad Engine House in Rochdale, Greater Manchester, said it cannot pay annual water drainage bills of £7,000.
The Trust said it only makes about £5,000 a year from visitors and can only afford to open one day each month.
United Utilities has offered to work with the charity to reduce its costs.
Ellenroad chairman Zoe Renshaw said the engine house's opening times are severely limited because of high running costs including coal and oil.
She said: "We need to resolve this issue as soon as possible, or the north of England might lose this invaluable part of its history forever."
'Largest in the world'
A spokesman for United Utilities said the company was "really sorry to hear about the museum's financial situation".
He said a new way of charging for water and drainage had been introduced, based on the size of the site.
But he added: "With the River Beal nearby we will offer to work with the owners and try to find a sustainable drainage solution for their surface water discharge. This will help reduce their overall bill further."
The engine house, on Elizabethan Way in Newhey, was built in the 1880s by the Ellenroad Spinning Company.
It houses the world's largest working steam mill engines - named Victoria and Alexandra.
They are the sole working survivors of the great twin horizontal tandem compound steam engines which powered Lancashire's mills throughout the latter part of the Industrial Revolution.