Manchester United fans held after Club Brugge clash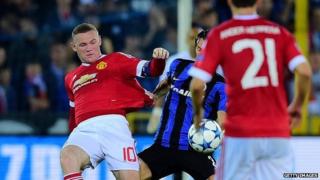 Fifty-seven Manchester United fans were arrested in Belgium on Wednesday night after fighting broke out following their team's Champions League victory.
Glasses and chairs were thrown in a clash between English and Belgian "hooligans" outside a bar in Bruges, the Chief Constable said.
About 30 Belgians attacked United fans in the Charlie Rockets pub before the fight spilled on to the street.
Almost all of those arrested were released shortly afterwards.
Manchester United received an allocation of 1,675 tickets, but many more travelled to Bruges for the match.
Fans without tickets
Chief Constable of Bruges Police Dirk Van Nuffel said 32 United fans and six Belgians were arrested near the bar.
A further 25 away supporters were arrested near the stadium for not having a ticket.
"There were a lot of fans without a ticket and they were attacked by 30 hooligans from Bruges," Mr Van Nuffel said.
"Police forces were present quickly and made 32 arrests of Englishmen and six Belgians.
"We will pass those identities to the British police and they will decide whether to charge them."
Greater Manchester Police officers who had been flown in to look out for any trouble, reported that one of the United fans was detained for resisting arrest and another for damaging a police car.
United's 4-0 win put them into the Champions League group stages.