Manchester United fans arrested after claims passenger racially abused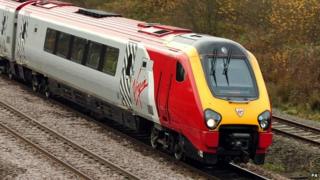 Two Manchester United fans have been arrested after a train passenger was racially abused, police have said.
The men, who had gone to Belgium for United's Champions League match on Wednesday, were on Thursday's 20:40 BST service from London to Manchester.
British Transport Police (BTP) said a 51-year-old man was arrested after he was reported by a witness as making racist comments to a fellow passenger.
Another 51-year-old man was later detained for kicking the witness.
He was arrested at Manchester Piccadilly station on suspicion of common assault.
The first man was held at Crewe station on suspicion of committing a racially aggravated public offence. He has been bailed until 17 September.
Manchester United beat Club Brugge 4-0 to seal their place in the group phase of the Champions League.