Hallé Orchestra founder celebrated in Manchester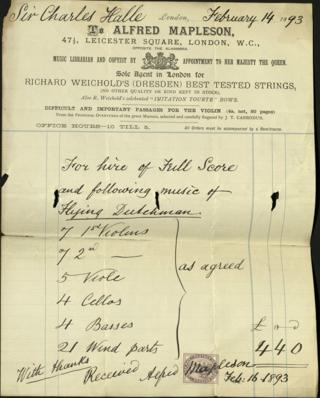 The musical legacy of the founder of the Hallé Orchestra is being celebrated in Manchester on the 120th anniversary of his death.
Sir Charles Hallé helped to establish the Royal Manchester College of Music, where he served as head and chief professor of pianoforte until his death in 1895.
He performed in the city for 35 years.
Some of Halle's rarely seen letters and ledgers have gone on display at Manchester's Central Library.
Letters revealing Hallé's vision for a college, originally named the Royal Manchester College of Music - now known as the Royal Northern College of Music - are displayed, alongside a concert programme for a performance held shortly after Hallé died following a stroke.
Eleanor Roberts, deputy director of development and archivist for the Hallé Concerts Society, said: "Hallé was a hugely significant figure in the history of Manchester music.
"As a result of his life's work, we have two great institutions in the city - the Hallé Orchestra and the Royal Northern College of Music."
---
Sir Charles Hallé
Born Karl Halle in Hagen, Germany on 11 April 1819.
Studied music in Germany before moving to Paris in 1836. In 12 years there, he studied and conversed with Frédéric Chopin and Franz Liszt, and was friends with the writers Alfred de Musset and George Sand.
He left Paris in 1848 after a revolution in the city, settling with his family in London.
After coming to England, he changed his name to Charles Hallé, adding the accent to the e of his name to stop people calling him Hall.
His first residence in Manchester was at 3 Addison Terrace in Victoria Park, a house he rented for £12 a month.
He was asked to put together a small orchestra to play for Prince Albert at the opening ceremony of Art Treasures of Great Britain in 1857. Hallé duly obliged and decided he liked the idea so much that he kept his band of musicians together, forming the fledgling Hallé Orchestra.
Died in Manchester on 25 October 1895 and is buried in Salford's Weaste Cemetery
---