AstraZeneca: Pharmaceuticals giant invests £75m in Cheshire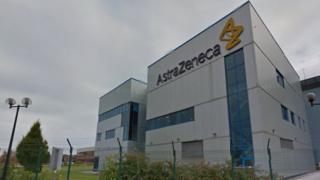 AstraZeneca (AZ) is to invest £75m in Cheshire, two years after the pharmaceuticals giant cut 1,600 jobs in the county.
It will pay for a "state of the art" packing and warehouse facility at the company's base in Macclesfield.
AZ's regional vice president Marc Jones said the news "confirms the significance of Macclesfield as a major manufacturing facility".
The investment will help secure the future of the site's 3,500 staff.
AZ axed 1,600 jobs at its nearby Alderley Park complex two years ago.
The new facilities in Macclesfield will be built on the site of an existing warehouse and will feature packing lines for tablets and capsules, and an automated warehouse.
Demolition work has already begun and construction of the new facility will begin early next month.
'Boost'
Macclesfield's Conservative MP, David Rutley, said: "It is a real vote of confidence in Macclesfield and in our highly skilled workforce.
"The decision is a real boost to the local economy and strongly supports the Cheshire Science Corridor strategy."
The Anglo-Swedish pharmaceutical giant revealed in 2013 that it would move its research and development unit from Alderley Park to Cambridge.
In July it was announced 450 jobs had been created by 28 companies at Alderley Park since AZ's announcement.
The company has also recently invested in a new sterile production facility at its Macclesfield site.