GMP 'inconsistent' over child sexual exploitation cases say inspectors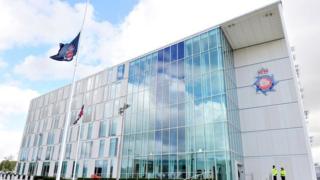 Greater Manchester Police (GMP) has been criticised for failing to protect children at risk of sexual exploitation and domestic abuse.
A report by Her Majesty's Inspectorate of Constabulary (HMIC) found "insufficient" action and "significant delays" in child protection issues.
It also highlighted improvements in the initial response of officers to incidents involving children at risk.
GMP said HMIC recognised its "desire to protect children at risk of harm".
'Little action'
Inspectors examined nine child sexual exploitation cases handled by GMP; three were said to be good, three needed improvement and three were inadequate.
In three cases, where an offender posed a risk to children, the force "pursued insufficient enquiries" and "took little action".
HMIC found a case in which a 15-year-old was strip-searched without an adult present - contrary to the Police and Criminal Evidence Act.
On another occasion, a 14-year-old boy was detained for 27 hours without charge by GMP and then for a further 15 hours as no secure accommodation was available.
In December 2014, HMIC found it must urgently address significant delays in child protection issues.
'Insufficient inquiries'
The HMIC set a six-month target to "ensure that relevant information is recorded at an early stage".
It noted the force has "taken some significant steps to improve officers' initial response when attending incidents involving children at risk".
The force has prioritised child protection "and it was clear to inspectors that the force desires strongly" to improve outcomes for children at risk of harm.
Delays were found in the high-tech crime unit, which it needs to "immediately" reduce. In July, 24 urgent cases were waiting allocation and the oldest had been waiting 14 weeks. Three-quarters related to child abuse.
Behaviour 'not recorded'
Inspectors examined eight cases where a child was present in domestic abuse incidents and four were deemed good, two required improved and two were inadequate.
The behaviour and demeanour of the child was not recorded in any of the cases.
Assistant chief constable Rob Potts said: "The protection of children is one of the most important things to every officer within Greater Manchester Police and they strive to safeguard children at every opportunity.
"GMP welcomes the recognition the HMIC has given the force within the report in terms of the improvements we have made and the strong desire to protect children at risk of harm."
He said they needed to "improve and develop our service to vulnerable victims".