Panoramic snapshots of life in Manchester's multicultural Cheetham Hill Road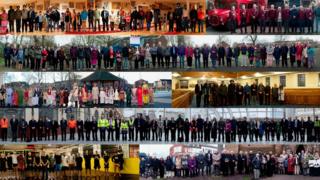 People living and working on one of the most culturally diverse streets in Britain are being celebrated in a new photographic exhibition.
Cheetham Hill Road: A People Panorama shines a spotlight on an area of Manchester where anything up to 150 different languages can be heard.
Manchester-based photographer Jan Chlebik spent three months immersing himself in the community and captured images of locals at work, worship and enjoying their leisure time.
The result is 28 panoramas which feature hundreds of people of all ages, walks of life and backgrounds who live side by side in the north of the city.
One shows children at Temple Primary School where pupils with 25 different nationalities sit down together at assembly every morning.
Worshippers at Manchester Central Gurdwara and at Higher Broughton and Higher Crumpsall Synagogue also posed for a picture as did those working out at Predators MMA Gym, which holds mixed martial arts and cage fighting classes.
Photographer Cheblik, who studied Fine Art at Leeds Polytechnic in the 1970s, said: "I've always been interested in taking pictures of people in panorama. It makes the ordinary interesting.
"It's like a row of individual portraits of people in one picture.
"Panoramas give everyone equal value in the picture. There's no-one in the front, no-one at the back and there's no one person more important than anyone else.
"That was particularly relevant in taking the pictures of people in Cheetham Hill Road.
"I think with all the kind of issues in today's world about different communities and where they belong, I wanted to show in these pictures that all these people with different backgrounds and cultures are all Mancunians and are all getting along on Cheetham Hill Road."
Cheetham Hill Road: A People Panorama opens at Manchester Jewish Museum on Monday, 21 March.
---
History of Manchester Jewish Museum
The museum is housed inside a former Spanish and Portuguese synagogue - the only UK museum inside a synagogue
Founded in 1873 by Jewish textile merchants from the Mediterranean and the Middle East (Sephardi Jews), the building is Moorish in style
It has more than 40 stained-glass windows
It is a Grade II listed building and has been described by English Heritage as "one of the highlights of Victorian Gothic architecture"
In 1911 more than 30,000 Jewish people lived and worked in Cheetham Hill
---