Cheshire East councillor Sam Gardner resigns over charity money row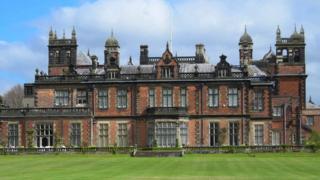 A politician responsible for his council's finances has quit his cabinet post after admitting a company he was a director of "misused" charity money.
Cheshire East Councillor Sam Gardner was a director of a firm that ran a music festival in 2011 which collected at least £4,142 in donations.
Instead of being passed to the charity, the money went into the account of his business, which was later liquidated.
Mr Gardner said he quit because he did not want to risk damaging his council.
Before being promoted to portfolio holder for leisure and open spaces in March, Mr Gardner was initially the Conservative-run council's deputy cabinet member for finance and assets.
He did not disclose the fact he was banned from being a company director when he was given responsibility for the local authority's finances in May 2015, council leader Rachel Bailey told the BBC.
'Heavy heart'
Under the council's rules, however, he had no obligation to do so - something that has been questioned by the opposition Labour group.
In a statement, Mr Gardner said: "I very much regret to announce that I have offered my resignation to [Ms] Bailey and will step aside from my cabinet portfolio... with immediate effect."
Ms Bailey said she accepted Mr Gardner's resignation "with a heavy heart" and was "very sorry to lose him in these circumstances".
Mr Gardner was disqualified as a director in 2013 after an application by liquidators appointed to Fomfest Ltd, which ran the Friends of Mine music festival held at Capesthorne Hall, Cheshire, in May 2011.
It is not known what role Mr Gardner had in the day-to-day running of Fomfest Ltd.
'Open and honest'
A signed legal undertaking outlines how £4,142 of donations was paid by attendees when they bought tickets. Additional donations were collected in cash at the three-day event, but the value of them is not known as no record was kept.
The legal document, signed in May 2013, confirmed his four-year ban from being a director.
Seen by the BBC, it says "no donations were remitted to the charity at all".
The charity lodged a claim to liquidators for £10,000.
In a statement issued before his resignation and the release of the legal document, Mr Gardner said: "I've always been open and honest about my past entrepreneurial enterprises.
"At no point did the company break any laws. I have always disclosed the matter when I've been required to.
"The disqualification is in no way incompatible with my duties as a portfolio holder."