Police officer Aidan Thompson jailed for secretly filming women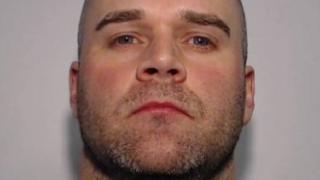 A police officer who furtively filmed up a teenage girl's skirt in a shopping centre has been jailed.
Greater Manchester officer Aidan Thompson also secretly filmed the flatmate of a sex assault victim and had footage of women in a changing room, Preston Crown Court heard.
The 35-year-old, from Stockport, was jailed for 14 months and has been suspended from his job.
His wife, family and colleagues were said to be "staggered" at his actions.
Thompson had admitted misconduct in a public office and outraging public decency.
The court heard he was arrested in October 2015 at the Arndale Centre in Manchester after "stalking" a 17 year old for up to 40 minutes and using a plastic bag with a hole in it to surreptitiously film her.
The girl later asked police: "If you can't trust a police officer, who can you trust?"
'Unhealthy interest'
Investigators also recovered footage of Thompson handling a leotard which was hanging in a police station locker room.
Judge Mark Brown, Recorder of Preston, told him: "You not only have let yourself down, you have let the police service down as well.
"Hardly surprising that this sort of conduct should undermine so significantly the confidence people have in police officers.
"The offences were committed for a very simple reason - you had an unhealthy interest in these young women, you wished to gain sexual gratification by filming them and that was what you were determined to do."
Bernadette Baxter, defending, said Thompson suffered psychiatric difficulties, would lose his job "imminently" and suffered "shame and ignominy" as a result of his behaviour.