William Lound killing: Mum 'devastated' by son's 'transphobic' murder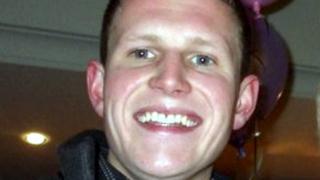 The mother of a student who was stabbed to death in a suspected transphobic hate crime has said her son "should have been free to live how he chose".
University of Salford student William Lound died after suffering multiple stab injuries at his flat in Bramall Court halls of residence on 8 February.
Lee Arnold, 36, of no fixed address, has admitted murdering the 30-year-old.
Mr Lound's mother Mo, of Birkdale in Southport, Merseyside, said his death had "devastated" the family.
Greater Manchester Police confirmed they were treating the mature student's killing as a transphobic and homophobic hate crime.
Mrs Lound said: "William was an intelligent, unique and caring young man, who should have been free to express himself and live his life how he chose.
"If nothing else, I hope his death highlights the fact that homophobic hate crime is still an issue in this country, and that it needs to be properly investigated and stamped out."
In a second blow for the family, Mr Lound's sister Virginia was found dead at a corner shop in Southport in June. There were no suspicious circumstances.
The 28-year-old had spoken at her brother's funeral, describing him as "one of life's nice guys" and a bright student who spoke fluent French, Arabic and Spanish.
Arnold was remanded in custody at Ashworth Hospital and will be sentenced next month.
Mrs Lound said she was "relieved" he had pleaded guilty to the killing, but said there was "no changing the fact he has robbed me of my family".
"William's death has had far reaching consequences and devastated my life in a way I never thought possible," she added.