Sacked officer: Police admit hacking phone of ex-partner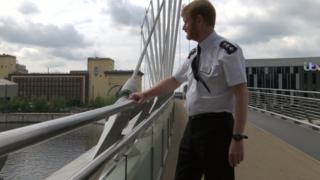 The ex-partner of a senior officer sacked by Greater Manchester Police (GMP) for gross misconduct has been told her phone was hacked by detectives.
Ch Insp John Buttress was found to have breached professional standards over his mortgage at a private police disciplinary hearing in September 2015.
He was later cleared by a jury but was dismissed by an independent panel.
Police apologised for accessing his ex-partner Nicola O'Connor's voicemail.
Following his dismissal GMP said Mr Buttress had "fallen below the accepted standards" of honesty.
He is taking the force to an employment tribunal claiming wrongful dismissal and has accused it of a "witch hunt".
'Accidentally pressed'
GMP initially concluded Ms O'Connor's phone had not been hacked.
According to one officer, "the more likely explanation" was that the phone had moved around in a storage bag and the necessary buttons had been "accidentally pressed".
But Ms O'Connor said: "They had the phone. I had the proof that they had used that phone and accessed voicemails and they concocted a ludicrous story that everybody laughed at."
Ms O'Connor complained to the Independent Police Complaints Commission (IPCC) over alleged unlawful surveillance and access of her voicemail.
GMP has admitted that Ms O'Connor's voicemail was illegally accessed while in the possession of the police but they said there was "no case to answer" in relation to the allegation of unlawful surveillance.
Mr Buttress said: "You are not allowed to hack somebody's phone. You need a warrant. There is no evidence of a warrant and I did ask those questions."
Police apology
Following its investigation into the case a letter from GMP to Ms O'Connor read: "There is no doubt the voicemail was accessed whilst in the possession of Greater Manchester Police.
"On the balance of probabilities I believe it is more likely than not that the phone of Nicola O'Connor was accessed intentionally by an officer."
Dep Ch Const Ian Pilling said the officer had not been identified so it was "impossible to consider either criminal or misconduct sanctions".
He said processes in the Counter Corruption Unit would be reviewed to ensure "incidents of this nature" would not occur again.
"I am able to tell you that we are confirming that your original complaint has been upheld and I can only apologise to you for any upset caused by the officers and staff involved," he said.
Ms O'Connor said she had been affected badly by the case and was "forced" to move house.
She said: "I don't trust any police officer any more. The mental effect that this has had on me. It has been three years now. It has been two years fighting for the phone hacking report to come to the obvious conclusion."
GMP said it could not comment further as it remained part of the investigation the IPCC was conducting into the case.