Investigation after Manchester Victoria Station roof tear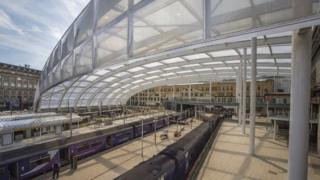 A new roof at Manchester's Victoria Station that had a panel cave in, injuring two people, is being inspected as an investigation gets under way.
The panel tore above Platforms 1 and 2 on Tuesday afternoon amid heavy rain.
Witnesses said "gallons of water" fell on people standing on a platform. Two people suffered minor head injuries.
The station remains open with services running normally and a full roof inspection is under way, Northern Rail said on Wednesday.
Contractors for Northern Rail have secured the roof panels that were damaged but the area below remains cordoned off.
The main concourse, which was sealed off over fears other parts of the roof could collapse, has now reopened a spokesperson for Northern said.
The station underwent a £44m upgrade last year, which included the new roof.
Victoria Station's 'bubble' roof
The 15,000 square metre roof was added as part of a £44m upgrade completed in October 2015
The roof comprises about 400 translucent, plastic panels used to bring in light to the station concourse
The panels are made of ethylene tetrafluoroethylene (ETFE) - a light but strong plastic that has become popular in construction
It is the same material used to make the domes at the Eden Project in Cornwall
Each panel was created using computer modelling technology
It was designed by architects BDP who also carried out the award-winning Piccadilly Station refurbishment