HMP Manchester rooftop protester: 'No-one was listening'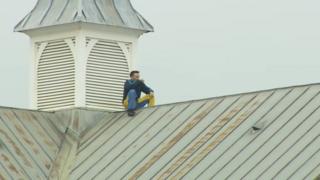 A convicted murderer has told a jury he staged a rooftop protest because "no-one was listening" to his concerns about prison conditions.
Stuart Horner, 37, was brought down using a cherry-picker after more than 60 hours on the roof of HMP Manchester in September 2015.
Manchester Crown Court heard he caused £1m of damage during the protest over inmates being locked up for 23 hours a day and "disgusting" toilet facilities.
He denies criminal damage and affray.
'Utter frustration'
Horner said he had a lawful excuse for carrying out the protest to protect himself, inmates and staff at the prison, commonly known as Strangeways.
The court heard the defendant tore aluminium strips off the roof, smashed windows with a pole and dismantled a CCTV camera during the protest.
He said that on "numerous occasions" he told prison officers that a "riot will occur one day if reform does not happen now".
Horner added that a few days before the protest he said he was told by the the prison's then-governor there was "nothing wrong" with the jail.
Asked by his barrister, Mark Ford, to explain his actions, Horner replied: "The only way to do it was to bring [the conditions] to the public's attention myself."
He said that "utter frustration" led to him causing damage on the roof.
Horner said: "The government [is not] doing nothing... I thought 'they have got to do something now'."
He agreed to be brought to the ground at the Victorian jail after he said he realised he had "made my point".
The jury will retire on Thursday to consider its verdicts.