Greater Manchester mayor: Communist League candidate Peter Clifford pulls out of race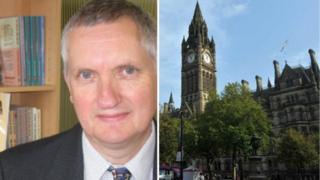 A communist trade unionist candidate for Greater Manchester mayor has pulled out of the race because of the cost.
Peter Clifford, 61, from Manchester, announced in January he would contest the election on 4 May on behalf of the Communist League.
But he has withdrawn his candidacy, saying "the £5,000 deposit required is effectively an exclusion of parties with our resources and priorities".
The successful candidate will lead Greater Manchester Combined Authority.
The authority is made up of the leaders of each of the area's 10 local authorities.
The mayor will chair meetings and allocate responsibilities to the authority's cabinet.
---
Candidates so far are:
Sean Anstee - Conservative
Jane Brophy - Liberal Democrat
Andy Burnham - Labour
Marcus Farmer - Independent
Stephen Morris - English Democrats
Shneur Odze - UKIP
Will Patterson - Green Party
---