Manchester rooftop protest prisoner jailed for nine years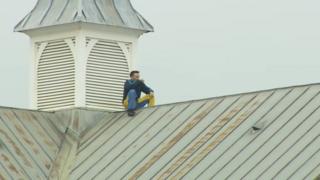 A convicted killer who staged a 60-hour rooftop protest at Manchester Prison has been sentenced to nine years for criminal damage.
Stuart Horner, 37, led a "gratuitous" campaign of damage which cost £1m. The judge told him that "power went to your head".
He was also sentenced to a 12-month concurrent sentence for affray after a trial at Manchester Crown Court.
Horner was originally jailed for life in 2012 for killing his uncle.
'Truly shocking'
In September 2015, Horner scaled an 18ft (5.5m) wall in the exercise yard and got on to the roof.
He tore aluminium strips off the roof, smashed windows with a pole and dismantled a CCTV camera.
Judge Jinder Singh Boora said he accepted Horner held a genuine consideration for others when he climbed on to the roof, over the issue of inmates being locked up for 23 hours a day and poor basic hygiene facilities.
However, he told Horner: "You went that extra mile because you had all that publicity. You then started a systematic campaign, a systematic effort to destroy the roof of wing B.
"I saw the CCTV and you were truly shocking in what you did... you took apart that roof single handed."
The defendant said he did not blame prison officers who shared his concerns, but the government for staff shortages and slashed budgets.
Giving evidence, Horner, formerly of Benchill Manchester, said "utter frustration" had led to him damaging the roof.
The judge told Horner: "After you had achieved that publicity it seemed to me the damage to that roof was nothing short of gratuitous."
HMP Manchester was extensively rebuilt after the 25-day Strangeways riot in 1990, in which two people died and hundreds were injured.