Mannequin challenge men sought over Salford robbery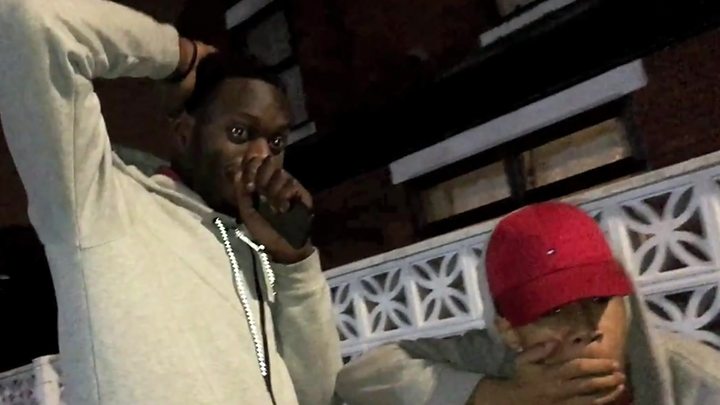 A gang of men who posed for mannequin challenges after two robberies in Salford are being sought by police.
Police said a victim was attacked by two men who stole his mobile phone on Fredrick Road, Salford on 14 November.
Minutes later, police said a second man had his phone stolen at a bus stop on Eccles Old Road after being wrestled to the floor by three men.
Officers said footage of the mannequin challenge was found on a phone in a Ford Focus used to flee the scene.
Victims 'terrified'
Police said the blue Ford Focus has also been linked to 11 "drive-offs" from petrol forecourts across Greater Manchester including in Swinton and Middleton.
Officers stopped the car hours later on Deansgate in Manchester city centre and arrested the 22-year-old driver Roger Bosion.
A search of the vehicle found a number of mobile phones and debit cards.
The owner of the car and the phones are yet to be identified but all of the debit cards have been reported as stolen, said police.
Mr Bosion was bailed until 13 December pending further inquiries but he failed to answer his bail and a warrant has been issued for his arrest.
Officers have now released the footage and want to speak to the group in connection with the two robberies.
Det Con Allan Barker from Greater Manchester Police said the victims were "terrified" by the robberies.
He said: "We have not yet been able to identify those responsible so it is imperative that we speak to the group of people in the footage to be able to move forward."
He added Mr Boison might be in London.
The mannequin craze, started by a group of teenagers in Florida, involves people being filmed while striking a pose and staying perfectly still.