Old Trafford intruder jailed for knifepoint rape of woman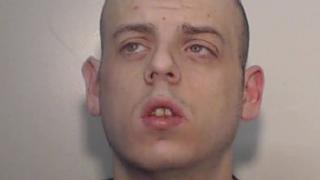 An intruder who broke into a woman's home before raping her at knifepoint in an "absolutely horrific" attack has been jailed for life.
The victim, 22, was attacked in Old Trafford at about 19:30 on 12 November, Greater Manchester Police said.
Neil Anthony Thompson, 28, from Chorlton, had previously pleaded guilty to rape, sexual assault and burglary.
At Manchester Minshull Street Crown Court on Thursday he was told he must serve a minimum term of eight years.
The victim, who was alone, had just returned to her home in Old Trafford when she heard a noise.
'Prolonged attack'
Believing it was just a car outside, she thought nothing of it and continued what she was doing.
Suddenly there was a loud bang, her bedroom door swung open, and knife-wielding Thompson burst in before demanding money and ordering her to get undressed.
Police said she was then subjected to a "prolonged attack" and repeatedly threatened with the knife.
After about 30 minutes, she managed to escape and run to a neighbour's house for help.
Thompson was found and arrested three days later.
Det Sgt Rebecca Mills said: "This was an absolutely horrific and completely random rape of a young woman in her own home by a man she had never seen or spoken to before.
"This is one of the most horrendous incidents I have been involved with investigating and the details of it will no doubt send cold shivers down the spines of anyone who hears them.
"The courage that Thompson's victim has shown was reflected in comments made by the judge during sentencing when he commended her for the bravery she showed on the night and then again when coming face to face with her attacker and delivering a victim impact statement in court."
Thompson admitted rape, attempted rape, three charges of sexual assault, causing a person to engage in sexual activity without consent, trespass with intent to commit a sexual offence and burglary.