Greater Manchester KFC set on fire by burning car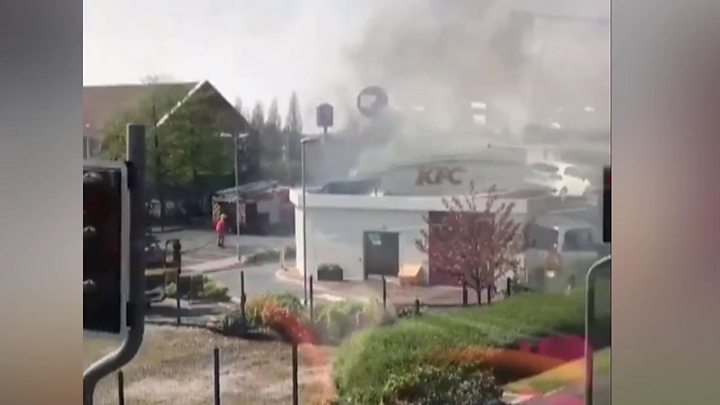 A fast-food restaurant has shut after a burning car went into the drive-through and set the building on fire.
Kentucky Fried Chicken (KFC) restaurant in Alphagate Drive, Denton Rock, Denton, Greater Manchester, caught fire shortly after 13:00 BST on Sunday.
Police said the car driver escaped unhurt and added it was not deemed suspicious.
Three crews took an hour to tackle the "car fire which spread to a fast-food restaurant", said the fire service.
Greater Manchester Police (GMP) said there were no passengers in the car or reports of other injuries.
Dean Gardner, who took pictures of the aftermath, said KFC staff told him the car was already on fire as it pulled up to the restaurant order window.
A KFC spokesperson said: "We're proud of the quick thinking and brave actions of our team members, and immensely relieved that no one was hurt.
"The damage is being assessed but we hope to welcome back our fans by the end of the week."
It is not known as yet how many customers or staff were in the restaurant at the time of the incident.