Manchester Gorton by-election cancelled because of general election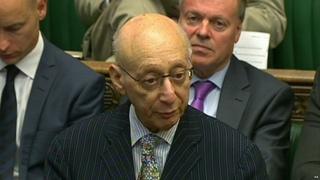 A by-election for the Manchester Gorton constituency has been cancelled after the House of Commons backed a snap general election.
The Cabinet Office said the election for the vacant seat, planned for 4 May, would now take place on 8 June as part of the nationwide polling day.
MPs formally overturned the writ for the by-election on Thursday.
The by-election would have created the anomaly of taking place after Parliament had been dissolved.
The need for a by-election was caused by the death of long-serving Labour MP Sir Gerald Kaufman in February.
Commons Leader David Lidington told MPs there was no statutory provision allowing for the cancellation of a by-election when a general election was in progress.
But he said a precedent was set in a similar situation in 1923, when a by-election writ was regarded as having been superseded.
The Commons vote on Thursday enabled Manchester's acting returning officer Joanne Roney to cancel the by-election.
She said: "I welcome the fact that this situation has now been resolved. We always knew common sense would prevail but our expert advice made it clear that as Returning Officer I did not have the legal power to change the date of the Manchester Gorton by-election. Now that Parliament has acted I am able to do so."
Greater Manchester's first regional mayoral election will go ahead as planned on 4 May.