Salford birth centre to 'ensure babies can be born in city'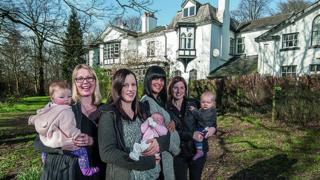 A former care home is to be turned into a birth centre to ensure babies can still be born in Salford following the closure of its only midwife-led unit.
Ingleside in Swinton will take over the service when Salford Royal hospital's centre closes in September.
Complex births will take place at hospitals in Manchester or Bolton.
Salford City Council, which is funding the £2m refurbishment, said it was important for mothers to "have the choice of giving birth in the city".
'Really important'
Bolton NHS Foundation Trust will run the facility in Oakwood Park, which is expected to open on 1 October.
Hannah, who gave birth at Salford Royal in 2016, said it was "really important, as a mum, to be able to give birth in the city that you live in".
"I live in Irlam and my only other options would be St Mary's in Manchester or Warrington Hospital, and it's quite a long way to travel."
Salford Royal has offered midwife-led services since its consultant-led maternity unit was closed in 2011.
The hospital has seen an average of three births every week and across the city, about 3,600 births were registered in 2015.
Following a shake-up of health services across Greater Manchester, a decision was taken to close all maternity services at Salford Royal on 30 September.
Complex births will continue to be transferred to St Mary's Hospital, North Manchester General Hospital or Royal Bolton Hospital.
The new centre's running costs will be covered by NHS Salford Clinical Commissioning Group and its services will also be offered to Bolton and Wigan residents.
Salford mayor Paul Dennett said: "It is important to families, communities and the council that babies continue to be born in Salford.
"The new centre will provide the perfect setting for a midwife-led birth centre, along with services such as antenatal and postnatal groups, breastfeeding support and perinatal mental health support," he said.
The city council hopes to recoup £1m of the refurbishment costs through donations.