Rogue rabbit ends up in Manchester polling station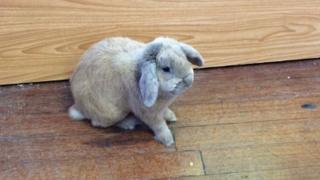 An escaped rabbit wandered into a polling station to the amusement of council staff and voters.
Fudge's owner was shocked to find his pet when he arrived to vote at the station in Chorlton, Manchester.
An appeal had already been made on social media, as voters were choosing the mayor of Greater Manchester.
One person working inside the station tweeted: "Missing: brown rabbit has just wandered into our Polling Station #Chorlton. Random Election Day!"
A council worker said: "The owner was very surprised to be reunited with Fudge inside the polling station."
---
Animals at polling stations
There appear to be no rules regarding rabbits in polling stations. But rules regarding other animals seem clearer.
Before the 2008 London Mayoral election polling staff were issued with advice stating that dogs had to be in an "accompanying" role rather than "free-range".
And dogs have been pictured outside polling stations across the UK.
In rural constituencies where voters may arrive on horseback, animals should be tethered outside.
---