Swinton recycling plant fire residents unable to return home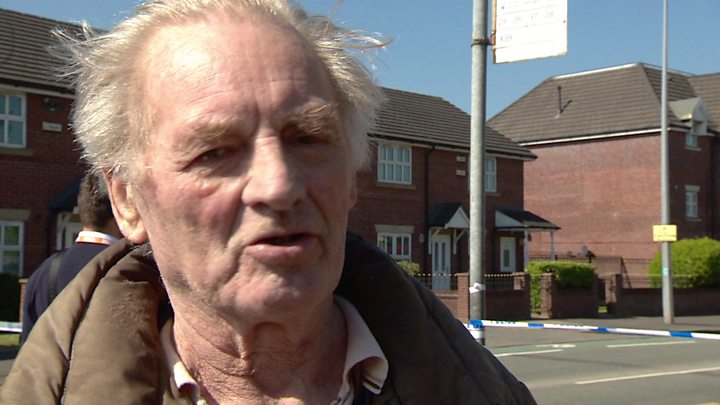 Residents evacuated from their homes after a fire broke out at a recycling plant are still unable to return home.
The blaze broke out at Wardley industrial estate, near Swinton, on Saturday night.
The fire, which caused a power cable to come down, forced 24 people out of their homes. It has now been contained.
Of those evacuated, six spent the night in local pub The Morning Star and others were transferred to hotels or stayed with family and friends.
Derek Jones, who stayed at the pub, said police knocked on his door at about midnight.
"They got everybody out and you could see the flames and all the smoke.
"It must have been quite bad because the firemen have been here all night and are still here," he said.
Station manager Mark Doggett said two engines were still at the scene on Holloway Drive, which remains closed.
He said teams were damping down the fire that is burning below the molten plastic, which has cooled and formed a hard layer.
Maureen Patterson, who runs the pub, said the firefighters were taking a well-earned break. "They're all in there now having bacon butties," she said.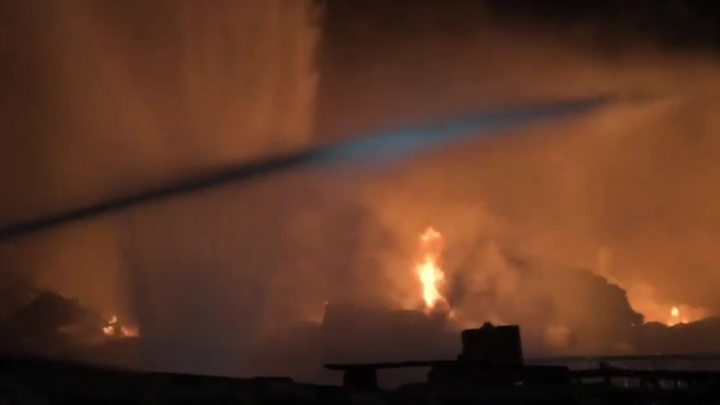 The blaze involved recycled computer parts in an industrial-sized container owned by company Virogreen, the fire service confirmed.
The roof of a house was damaged and live cabling snapped, affecting other houses.
A spokesman for National Grid said it was "assessing the situation before commencing a repair of the line" but "we cannot confirm yet how long that will take".
One firefighter suffered minor injuries in the blaze. The cause of the fire is unknown and investigators are at the scene.
Police said Manchester Road will remain closed between Swinton and Walkden until Monday.
Motorway police tweeted that black smoke was blowing across the M60 between junctions 13 and 14 and the M61.
The railway line between Manchester and Wigan is also shut.
Firefighters were called to the scene at about 23:20 BST and managed to bring the flames under control just after 02:00 BST.
People are asked to avoid the area and residents are advised to keep windows and doors closed.