Live Saturday morning children's show to return to BBC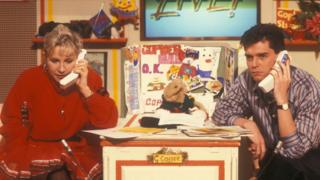 Live Saturday morning children's entertainment in the tradition of shows such as Going Live! and Multi-Coloured Swap Shop is to return to the BBC.
From this autumn, CBBC viewers will get to quiz pop stars on a programme given the working title of Live & Dangerous.
A BBC spokeswoman said "buckets of gunge are at the ready" for the show, to be made at MediaCityUK in Salford.
While the human presenters have not yet been named, CBBC's cheeky canine Hacker T Dog is expected to steal the show.
Going Live! ran from 1987 until 1993.
Older generations may remember Swap Shop, which was presented by Noel Edmonds, John Craven, Maggie Philbin and Keith Chegwin.
It ran for seven years until 1982.