Anthony Grainger shooting: Police 'covered up failings'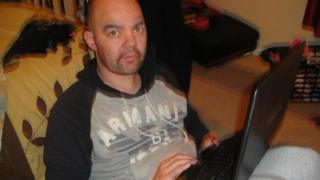 A police operation in which an unarmed man was shot dead was like a "kamikaze cavalry", a public inquiry has heard.
Anthony Grainger was shot in the chest during a Greater Manchester Police (GMP) operation in Culcheth, Cheshire, on 3 March 2012.
Family representative Leslie Thomas QC said "serious failings from top to bottom" led to his death.
GMP has said there was intelligence Mr Grainger had been involved with planning a robbery.
Hugh Davies QC who represents Q9 - the firearms officer who shot 36-year-old Mr Grainger - said his client had acted lawfully.
'Rotten to its core'
In his closing statement Mr Thomas told Liverpool Crown Court the police operation was "more like a kamikaze cavalry than the restrained and professional approach that should have been taken.
"Had the operation been run properly and competently it is clear that Anthony would not have been shot.
"He may have been up to no good, but there was no reliable basis for thinking he had a gun that evening, and still less for thinking he would ever shoot a police officer with one."
Mr Thomas went on to claim GMP attempted to "cover up" failings over the death of Mr Grainger, from Bolton.
He added: "Key documents have been destroyed, accounts and logs embellished, police statements carefully stage-managed, evidence has been concocted, redactions made for no good reason and thousands of pages of relevant material withheld.
"Taken together with the sweeping failures in planning and execution of this operation, this smokescreen by GMP reveals an organization that is rotten to its core."
Mr Davies said Q9 would not have shot Mr Grainger unless he "believed it was necessary".
"He would take the same decision again in the same circumstances," he added.
Mr Grainger's inquest was converted to a public inquiry in March 2016 by then-Home Secretary Theresa May.
It is due to end on Thursday and the findings expected to be published by the end of the year.