CarFest plane crash: Kevin Whyman's death 'accidental'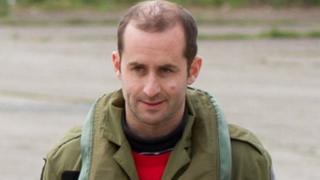 A pilot who crashed at an air display during an aerobatic manoeuvre was killed accidentally, an inquest jury has concluded.
Kevin Whyman, 39, was killed when he lost control during a 360-degree roll at the CarFest North event in Oulton Park, Cheshire, on 1 August 2015.
He had tried to reverse the direction of roll when the plane dipped unexpectedly.
The jury in Warrington recorded a conclusion of accidental death.
Mr Whyman was performing at a charity event set up by broadcaster Chris Evans to raise funds for BBC Children in Need.
Intermediate classification
The jury, sitting at Warrington Town Hall, said: "It is more likely than not that Mr Whyman used an appropriate technique to try and recover the situation.
"When faced with a time-critical situation it is more likely than not that an inappropriately-timed pitch input contributed to the outcome and made the situation unrecoverable."
The former RAF officer sustained multiple injuries from the impact when he crashed one mile north of the festival site in a wooded area and was pronounced dead at the scene.
He was one of two pilots in the Gnat Display Team executing a 360-degree manoeuvre, known as an aileron roll.
His aircraft was into its second roll when the nose of the jet dropped unexpectedly. Mr Whyman attempted to reverse the direction of the roll and the situation was "probably recoverable" at that point, the inquest heard.
But inspectors at the Air Accidents Investigation Branch (AAIB) said Mr Whyman then applied "a large pitch input" which they said was "inappropriately timed".
This led to an increase in the rate of descent which caused the aircraft to go out of control, the AAIB said.
'Life and soul'
Investigators also thought that Mr Whyman's level of experience probably contributed to the outcome.
Mr Whyman had kept up flying when he left the RAF and his logbook recorded a total of 418 hours as a pilot in command in all aircraft.
This classed him as "intermediate" by the Civil Aviation Authority (CAA), rather than the 450 hours required to be termed as "experienced".
Mr Whyman's wife Alexandra, 36, was pregnant with the couple's second daughter at the time of the crash.
His parents said they were "extremely proud" of his achievements and "hope that his legacy will live on".
Robin and Pat Whyman, from Chester, said: "He was invariably welcomed as the life and soul of any gathering, has been referred to as a legend, a hero and an inspiration to others, and a kind and talented man who has been an honour and a privilege to have known.
"He has achieved more in his short life than most of us would in several lifetimes."