Tom Hardy launches fundraising drive for Manchester bomb victims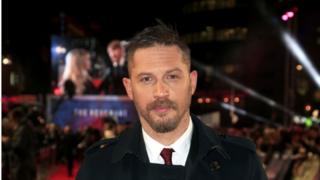 Actor Tom Hardy has launched a fundraising drive for the victims of the "barbaric" Manchester bombing.
The Hollywood star, 39, is raising money for the British Red Cross Society, whose campaign has so far raised £1.5m.
Hardy said he was shocked that "families and children were attacked and murdered in a place where they should be safe and enjoying a concert".
His Just Giving site has reached nearly half his £15,000 target.
"Terrorism is abhorrent"
Hardy, who thwarted a "fleeing thief" recently, wrote on his fundraising site: "There is no bringing back those who have been lost, pointlessly, in such a cowardly and brutal fashion.
"I am truly saddened by what I have witnessed and there is no doubt that terrorism is an evil thing."
Mr Hardy added: "Terrorism is abhorrent, the killing of innocent families and children unacceptable.
"And it is with those, the innocent victims and the witnesses of this atrocity that my heartfelt concern and deepest sympathy lies."