Manchester attack: Victim Elaine McIver was 'one of a kind'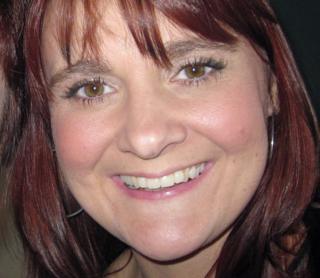 A police officer killed in the Manchester attack would "want us all to carry on regardless and not be frightened by fear tactics", her family has said.
Det Con Elaine McIver, who was 43, worked for Cheshire Police.
The off-duty officer was among 22 people killed in the explosion at Manchester Arena on Monday.
Her family, who said her partner Paul was also injured in the blast, said "she will live in our hearts forever".
'Effervescent and outgoing'
A further 64 people were injured and taken to hospital following the attack.
Ms McIver's family said she was "unique and irreplaceable".
In a statement they said: "Elaine was one of a kind and had an impact on so many lives. She was a friend to so many and an amazing daughter, sister and aunt.
"Her love for all was immense and she was like the glue that held us all together.
"Our lives have been enriched by the time that we have had with her, but they will never now be the same again."
The statement continued: "Her sense of humour was infectious... Elaine also had many funny phrases and sayings that we were all accustomed to hearing and can still imagine her saying.
"We all have so many wonderful memories and funny stories... She would have wanted us all to continue to laugh, despite the tears in our eyes and pain in our hearts."
Her family said she "just loved life", had a major love of music, loved to talk and could speak to complete strangers with ease, making everyone around her feel comfortable and relaxed.
She had an "effervescent and outgoing personality", a huge heart and was thoughtful beyond belief, her family added.
Her family said she would have been "devastated" by her partner's injuries and they all wished him a speedy recovery.
They said Paul had made her "amazingly happy... to a new level not seen before" and they had been looking forward to buying a house together.
Ms McIver's sister Lynda posted a tribute on Facebook, thanking people for their support.
"You will never quite know how much you are helping us through this nightmare," she wrote.
She said the sisters were "a formidable force" with an "amazing and fantastic sisterly bond" which would "continue to live on inside me as long as I am breathing".
"Keep smiling through the tears and stay strong everyone. Let's keep sharing our stories and memories of her and all our loved ones who perished on Monday," she added.
Chief Constable Simon Byrne said: "It is with a heavy heart that I have to speak about the loss of a serving officer of ours in the Manchester Arena terrorist incident and all our thoughts are with her family at this time."
He said Det Con McIver joined the Cheshire Constabulary as a special 20 years ago and became a regular officer in 1998.
She then worked in Ellesmere Port, Warrington and in the economic crime unit at headquarters in Winsford before moving to the regional organised crime unit TITAN, the north west regional organised crime unit, in 2013.
Mr Byrne said: "Friends who knew her well have described her as big hearted, bubbly and a positive person."
He said the force was supporting her family and colleagues at "this very difficult time... as we come to terms with the loss of an officer in such tragic and heart-rending circumstances."
He added: "We will not let evil win."
Cheshire police and crime commissioner David Keane said there was "great sadness" felt by her friends and colleagues at Cheshire Constabulary and her current team at TITAN.
He said: "We will be doing everything we can to support Elaine's family and our officers and staff. It is at moments like this that we must remain unified and strong."