Michael Blake shooting: Man guilty of murder is jailed for life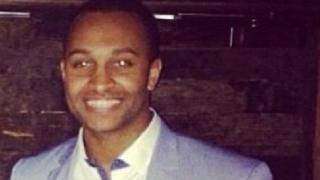 A man who killed a young father and tried to claim his victim shot himself has been jailed for life and ordered to serve a minimum of 30 years.
Michael Blake, 28, was led away from his home in Westhoughton, Bolton, to the back of a van and shot before being dumped in an alley on 3 May 2016.
Nathan Daniels, 28, of Stockport, was found guilty of murder at Manchester Crown Court.
Four other men linked to the killing were also sentenced.
'Implausible' defence
Nathan Quigley, 31, of Hulme, Manchester, pleaded guilty to manslaughter and was jailed for seven years
Joe Wilson, 27, of Stockport, also admitted manslaughter and was sentenced to seven-and-a-half years
Brendan Fallon, 36, of Gorton, and John Edwards, 47, of Stockport, admitted assisting an offender. They each received sentences of 21 months, with Edwards' sentence suspended for two years
Police initially said there appeared to be "no motive" for the killing, but later arrested the five men.
Mr Blake, who is thought to have died as a result of a dispute over drugs or money, answered the door to his killer before being shot, police said.
A spokesman for the Crown Prosecution Service said evidence from witnesses, CCTV and mobile phone data unravelled the plot.
He said it was "very clear from the evidence" that Nathan Daniels, Nathan Quigley and Joe Wilson "were involved in a joint plan to threaten or harm" Mr Blake.
"The evidence we presented at court proved that Nathan Daniels took the gun with him and fired the shots that ultimately killed Mr Blake," he said.
"His defence that Mr Blake had the gun and inflicted the wounds on himself during a struggle was simply implausible."
Speaking at the time of his death, Mr Blake's family said he had recently bought a house with his girlfriend, and was "looking forward to settling down for family life".
Greater Manchester Police said he had been known to officers, but "not recently, and certainly not for any major crime".