Arrests made as Manchester protest by UK Against Hate 'turns nasty'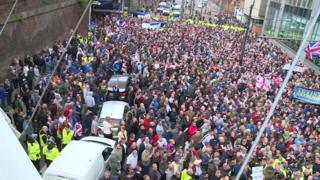 Eight people have been arrested following a march by protesters in central Manchester opposing extremism.
Thousands gathered in the city almost three weeks after suicide bomber Salman Abedi killed 22 people and injured more than 110 at an Ariana Grande concert
Bottles and flares were thrown as the UK Against Hate group and counter-demonstrators clashed and police said the protest "turned nasty".
Greater Manchester's mayor said police "deserve better".
'Incredibly challenging'
The mayor, Andy Burnham, criticised protesters on Twitter, pointing out that the force was currently handling one of its largest-ever investigations, into the terrorist atrocity.
UK Against Hate said on its website it organised the march to "stand together in Manchester in opposition to hate".
However, some protesters chanted "Our streets" and "You're not English anymore."
Hundreds of people, describing themselves as anti-racist demonstrators, attended to counter the march, which took place in Piccadilly.
More than 400 officers were deployed, with support from other police forces.
"There have been eight arrests for public order offences, which is not uncommon for a demonstration of this size," Greater Manchester Police said.
Ch Supt John O'Hare said it was "incredibly challenging".
"I understand that these events are very emotive and that tensions run high when there are polarised views and counter-protests," he said.
"This meant another busy weekend for our people who have worked considerably long hours in extremely challenging circumstances for no other reason other than to look after our communities."
Mr Burnham tweeted: "@gmpolice are stretched to limit & in middle of on-going investigation. These EDL-types who came today need to have a look at themselves.
"To those saying they weren't EDL - I honestly don't care. They still need to take a long, hard look at themselves. @gmpolice deserve better."
"I care about our Police being unnecessarily distracted when they are worn out & still working hard to investigate a major incident."
Former English Defence League (EDL) leader Tommy Robinson was a speaker at the event. He initially said protesters would "walk in silence through the city to honour the dead".
Following the march he tweeted: "Some turn out today, proud."
He also said: "I cant believe the love I was shown today, I was pretty overwhelmed. The most humbling experience of my life."
The event caused delays to transport services, including those taking people to the city's Parklife music festival at Heaton Park.