Manchester attack: Funeral held for Georgina Callander, 18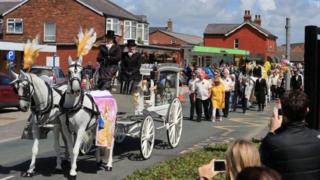 Streets of a village were decorated with pink and yellow ribbons for the funeral of an Ariana Grande "superfan" killed in the Manchester terror attack.
Georgina Callander, 18, was among 22 people who died in the suicide bombing at Manchester Arena on 22 May.
Hundreds attended the service at Holy Trinity Church in Tarleton, Lancashire.
Attendees wore "a touch of yellow" at the request of her family, who thanked mourners for their "sympathy and support".
Parents Lesley and Simon, with brothers Daniel and Harry, laid flowers in the village before the funeral.
Shops were closed as a mark of respect as the funeral cortege made its way through.
---
By Chris Long, BBC News, in Tarleton
Dozens of mourners came in black with splashes of yellow - a flower or dress here, a shirt or tie there - to match the yellow ribbon tributes adorning every lamppost, shop front and police car in this small village.
And as they arrived, locals, staff from a nearby supermarket and children from the school next door stood silently, respectful as the church bells tolled over the sound of Westlife's Season in The Sun - a reminder of the music Georgina Callander loved so much.
Throughout the service, pop songs from One Direction and Robbie Williams mixed with hymns and tearful recollections of her.
Bishop John Goddard said the service was a time to "put aside hatred and... embrace love and hope".
Her brother Daniel spoke of "Mummy's little girl", a "kind and caring sister", and her friends, teachers and work colleagues all talked of her warm unforgettable smile and fun, warm-hearted character - a young woman who was "a little bit crazy, a little bit cheeky".
Inevitably and emotionally, it was the music of her hero, Ariana Grande, who she had been watching only moments before her tragic death, that closed proceedings as a rural village, heavy with sorrow and still reeling from the impact of a terror attack miles away, said a final farewell to a much loved one of their own.
---
A private burial service was held after the church ceremony.
Georgina was described as "beautiful" by friends who said on social media that she was one of the first people taken to hospital after the attack.
She was said to be a huge fan of 23-year-old Grande and was pictured with her in 2015.
The final song played at the service was the US singer's hit One Last Time, which has become an anthem for fans since the attack.
Grande performed an emotional rendition of the song at the One Manchester benefit concert on 4 June.