Fake Chernobyl radiation test sex abuser jailed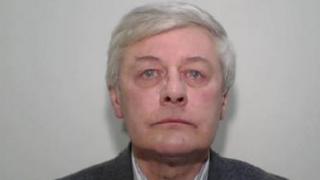 A man who tricked his victims into believing they had radiation poisoning from Chernobyl before sexually abusing them has been jailed.
John Beaumont, 59, persuaded two children and a woman they may have been contaminated in the 1986 nuclear disaster in Ukraine.
He got them to undress and then inserted hypodermic needles into their arms, neck and genitals.
Beaumont was jailed for 16 years at Minshull Street Crown Court on Friday.
He admitted one count of assault and nine counts of indecent assault between 1986 and 1996.
The court heard Beaumont, of Byron Road, Bury, persuaded the teenagers and woman that he was best placed to examine them before pretending to take samples, which he said would be sent away for tests.
'Web of lies'
Duping victims into believing he worked for the Ministry of Defence, in one case he used a Geiger counter to "check" for radiation and he injected another victim in her genitals with what is believed to be water, the court was told.
Det Con Debra Gallagher said Beaumont carried out "sickening assaults which were uncomfortable and painful" by abusing the trust of victims, who "were extremely vulnerable".
He "went to extreme lengths... spinning a web of lies including a false identity" to "make his examinations appear legitimate".
"In my career as a detective I have never dealt with a case as unusual at this one and I will never comprehend how anyone could use such tragic circumstances to manipulate and abuse people", she said.
The victims reported the incidents in 2014 to police who discovered he had previously been convicted for similar offences dating back 30 years in Scotland.