Builder rescues two men from Hyde flat explosion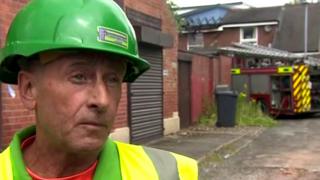 A builder has described how he ran into a burning flat to rescue two men after an explosion in Greater Manchester.
Tony Cantwell was working nearby when the property in Meadowfield Court, Hyde went up in flames at about 10:45 BST.
"The door was on one hinge basically, so I kicked it open and this gentleman was in a state of shock," he said.
He rescued one man from upstairs and returned for the other who was in a wheelchair. Denying heroism he said: "I was just doing what anyone would do."
'I'm not a hero'
Mr Cantwell said he noticed the first man had "graphic" injuries when he carried him out.
"Then someone said to me there was another gentleman inside - and he was disabled and in a wheelchair so I grabbed him."
The builder said he was not concerned for his own safety.
"I've seen enough life. I'm a certain age if anything happens to me so what?"
He added: "I'm not a hero, you never think, you just think of other people.
"I would like to think I was just doing what anyone would do."
The two men were taken to hospital with serious burns.
Up to 30 firefighters were called to the first floor flat and nearby buildings were evacuated as a precaution.
A police cordon is in place and the fire service remain at the scene. The cause of the explosion is still under investigation.
The major rescue unit attended with crews from Stalybridge, Leigh and Gorton, Greater Manchester Fire and Rescue Service said.
Group manager Dean Nankivell said: "We currently have a number of firefighters at the scene who are working to make the building safe.
"They are inside the building shoring-up the structure to make it as structurally sound as possible."