Street name call for 'inspirational' marathon man Ben Ashworth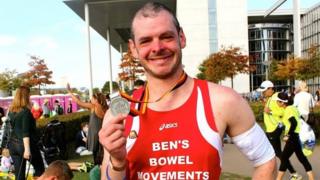 Friends of inspirational runner and fundraiser Ben Ashworth are calling for a street to be named after him in his honour.
A petition was set up by long-term friend Graham Dixon following Mr Ashworth's death on Sunday.
The 38-year-old, from Preston, completed 24 marathons for charity after being diagnosed with terminal bowel cancer in 2012.
Mr Dixon said: "Ben was an inspirational figure for Preston."
The petition is calling on Preston Council to name a stretch of the Guild Wheel "Ben Ashworth Way".
So far it has been signed by more than 2,000 people.
Writing on the petition, Mr Dixon said: "Despite being diagnosed with terminal bowel cancer, Ben did not give up but fought it all the way... All this to not only raise a fantastic amount of money but also to raise awareness of this cruel disease."
Mr Ashworth's wife Louise said his family was "heartbroken" but "in awe" of how he "defied the odds".
His wife said in a statement they were "overwhelmed and honoured by the loving and generous words flooding in" which were a "huge comfort".
The former librarian, who has three daughters, started his charity runs in April 2014 in Blackpool.
While undergoing chemotherapy he ran other marathons including Windermere, Wakefield, Northampton and the Isle of Man.
His final marathons - Greater Manchester, Temple Newsam and London - were completed last year, taking his final tally to 24 in 24 months.