Rochdale abuse: 'Muslim communities must tackle sexism'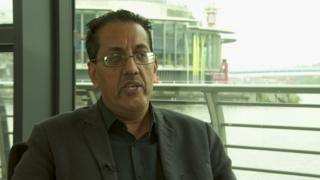 Muslim communities need to tackle sexism and victim-blaming, the man who prosecuted a grooming gang has said.
Prosecutor Nazir Afzal made the call following the airing of drama "The Betrayed Girls" about Asian men jailed for grooming teenagers in Rochdale.
There were "sizeable chunks" of communities who were derogatory to women and girls, he said.
But a mosque committee member in the town said the race and religion of abusers was "totally irrelevant".
'Cultural silence'
Girls were abused at two takeaway restaurants in the Heywood area of Rochdale by a group of men aged between 24 and 59.
Mr Afzal, who brought the case against the Rochdale gang in 2012, said: "Even now, people will say [the girls] asked for it. 'If I bought them a kebab what did they expect.'
"It is absolute nonsense but nonetheless some people do believe that.
"That is part of the problem, this sort of cultural silence. Community silence, which is not complicity, but when you are silent you allow people to get away with stuff."
He said: "There is sadly a view amongst many that women and girls are a lesser beings and there aren't any consequences if you harm them," he warned.
"I am a Muslim and don't think that way. The vast majority of Muslims don't think that way, but there are places in this country where I hear this on a regular basis."
Mr Afzal admitted victim-blaming could be found "across the board", with convicted "white celebrity abusers" also saying their victims had been responsible in some way.
But he said he does not think "the conversation in Muslim communities and minority communities is as advanced" as in other groups in society.
Masood Shah, a committee member at the Mustafah Islamic Centre in Rochdale, disagreed that there is sexism within Muslim communities.
"If you look at the core values of Islam you will find a woman has a very, very high status; a mother has more rights to a child than the father.
"An Islamic saying is your heaven is under the feet of the mother. So women are highly respected."
'Opportunists'
He added: "The race and religion of [the men who were involved in grooming] was totally irrelevant. It is totally criminal activity. Nothing to do with race, creed or culture.
"These men were opportunists using vulnerable children to satisfy their criminal instinct."
Mr Shah said he believed there had been a "sea change" in Rochdale since the convictions, with the Muslim community condemning these acts "widely".
But Mr Afzal warned: "The community is not making the strides it should be.
"Immediately after [the trial] there were all sorts of commitments, sermons in mosques and much more training and educational stuff, then the cameras went away and not a lot has happened since."