Manchester Airport terminal evacuated over 'suspicious package'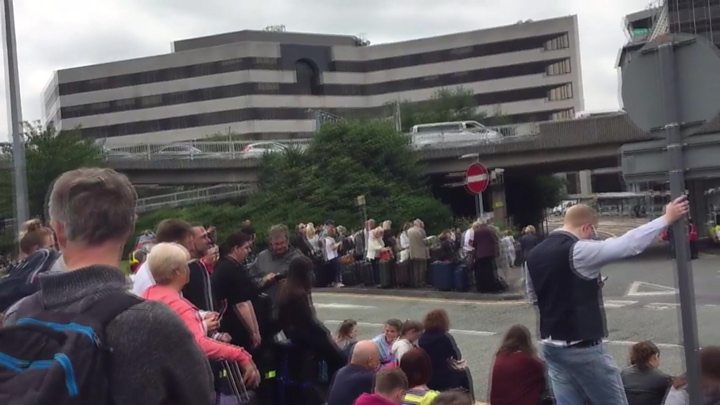 A series of controlled explosions have been carried out by a bomb disposal unit at Manchester Airport.
The airport's Terminal 3 was evacuated after routine hold baggage screening identified a bag which appeared to contain a "suspicious item".
Hundreds of people were asked to leave the terminal as a precautionary measure while police investigated.
A spokesman for the airport said officers have now determined there was "no threat".
He said: "We are beginning the process of allowing colleagues and passengers back into the terminal.
"We apologise to all passengers affected by this incident. The safety and security of our customers and employees will always be our number one priority.
University lecturer Lizabeth Hannaford, who was among those evacuated, tweeted that police expanded a security cordon and moved people further away from the terminal.
She said officers were "joking with evacuated passengers" and the "mood is calm".
The airport said people using Terminals 1 and 2 "should travel as normal".
Passengers who were due to fly from Terminal 3 have been advised to contact their airline for updates.
Terminal 3 is the airport's smallest terminal and is used for domestic flights, as well as some flights to the US and Europe.
Airlines operating out of the terminal include British Airways, American Airlines, KLM, Flybe and Air France.
Parts of Terminal 1 were evacuated on Tuesday after a fire alarm was set off following a water leak.