Spoof blue plaques go on show at Salford Lads Club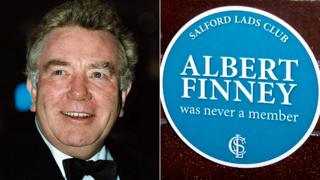 A display of spoof blue plaques on celebrities' links with Salford Lads Club, which famously appeared on an album by The Smiths, has gone on show.
Titled "Albert Finney was never a member", it debunks myths while also celebrating past events at the venue.
Project manager Leslie Holmes said: "Our plaques are a bluey green, to be a bit different from the official English Heritage scheme."
It is being held in conjunction with the Manchester International Festival.
Mr Holmes said: "Whenever I go to London, I'm always amazed by how many blue plaques there are about the lives of the rich and famous, but hardly any in Salford, so I thought it would be good to change this - even for the weekend - and put 20 plaques here at Salford Lads Club."
He said the exhibition's title was "a humorous way of putting the record straight" on a myth that Salford-born actor Finney, who appeared in Skyfall and The Bourne Ultimatum, was a member when he was a boy.
The plaques, designed by the artist Amber Sanchez, will be on display at the venue until Sunday afternoon.