Manchester mosque arson attack is 'hate crime', police say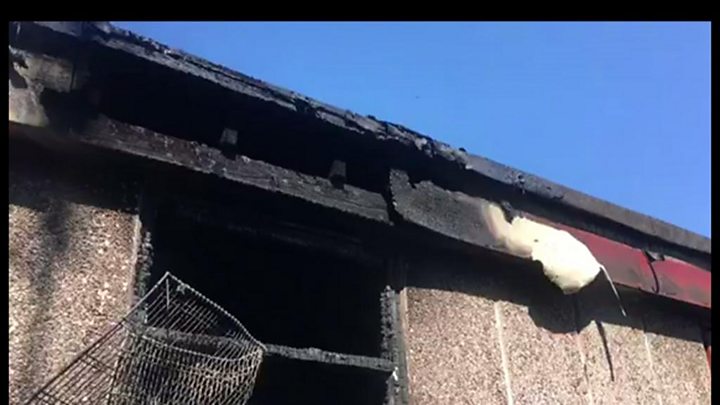 A suspected arson attack at a Manchester mosque is being treated as a "hate crime", police said.
An investigation has been launched after a fire at the NASFAT Islamic Centre building in Droylsden Road.
People were "understandably shocked" a place of worship had been attacked, Det Ch Insp Paul Walker of Greater Manchester Police said.
Five fire engines tackled the blaze at about 23:45 BST on Sunday. A prayer room and three classrooms were damaged.
Mosque spokesman Shamusideen Oladimeji said there had been two other arson attacks at the centre in the past three years.
There had also been other incidents, including pigs' heads being thrown into the building, people urinating outside and verbal abuse, he added.
Police said investigations so far found someone approached the building and forced open a window before placing an "unknown accelerant" inside.
Det Ch Insp Walker added: "We are investigating this as a hate crime which has damaged a place of worship used by members of the Nigerian community."
He asked anyone in the area at the time to contact police and said patrols would be stepped up to reassure the public.
"No one should be the subject of hate and intolerance", he said.
Local Labour councillor John Flanagan said: "This has been a dreadful attack on a place of faith. This is not just an attack on the Muslim faith but on all of us."
Mr Flanagan said a local community centre had offered space for Friday prayers and he added he had been inundated with offers of help.
Mr Oladimeji said: "We don't know why this happened. We try to be good neighbours and we try to be involved with our local community."
Deen Mayodole, vice-chairman of the mosque, added: "We are people of peace."
Nasfat (Nasrul-Lahi-l-Fathi Society of Nigeria) opened the centre in 2009 and it has about 300 members.