Man, 21, charged after two injured in Stockport A6 crash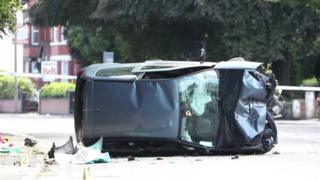 A man has been charged after a husband and wife were left seriously injured in a crash on the A6 in Stockport.
The couple, in their 50s, were hit by a Renault Clio as it struck a traffic light on Sunday, police said.
Liam Fisher, 21, from Farnworth, is charged with two counts of causing serious injury by dangerous driving and driving without a licence and insurance.
A 20-year-old man who was arrested has been released without charge.
At 11:30 BST, a police officer waiting in an unmarked car on Buxton Road reported seeing a Renault Clio and a Vauxhall Vectra following each other, police said.
The Clio later crashed in the Heaviley area. Two pedestrians were taken to hospital with multiple injuries.
Police are still appealing for help in tracing the black Vauxhall Vectra involved.