Mosque arson attack is 'terrorism', say Manchester Muslim leaders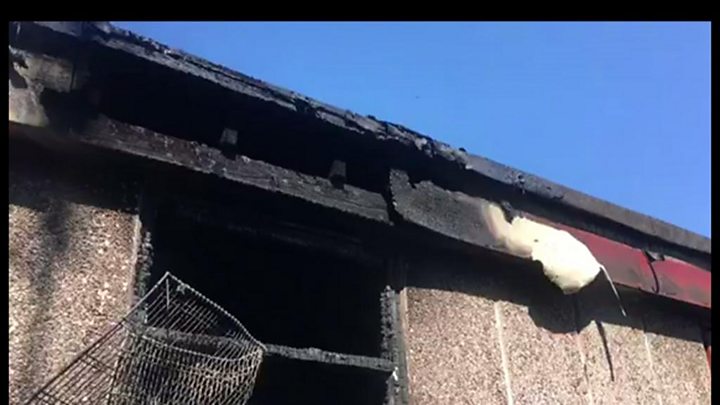 A suspected arson attack on a Manchester mosque should be treated as an act of terror, Muslims leaders say.
Police are investigating the fire at the Nasfat Islamic Centre building in Droylsden Road, Newton Heath as a "hate crime".
But officials want to establish whether it was carried out for any "political, religious, racial or ideological purposes".
A prayer room and three classrooms were damaged in the fire on Sunday night.
Qasim Chohan, from the Manchester Council of Mosques, said: "If we don't speak out or if we turn a blind eye against those that commit these awful crimes, those that spread hate will only increase their grasp on the communities around us.
"We need to stamp this out now and we urge the police and the security services around us to tackle this terrorism."
Mosque spokesman Shamusideen Oladimeji said there had been two other arson attacks at the centre in the past three years.
Other incidents have included pigs' heads being thrown into the building, people urinating outside the building and verbal abuse, he added.
Police said investigations so far had found that someone approached the building and forced open a window before placing an "unknown accelerant" inside.
But officers are treating the incident as a hate crime rather than terror related.
Ch Supt Wasim Chaudhry, of Greater Manchester Police, said: "We are treating this as a hate crime and our investigation into the offence will pursue all lines of inquiry to identify the motive.
"People are understandably shocked that someone has attacked their place of worship, but can trust that we are taking this investigation extremely seriously. "