Mums offered £300 in shopping vouchers to quit smoking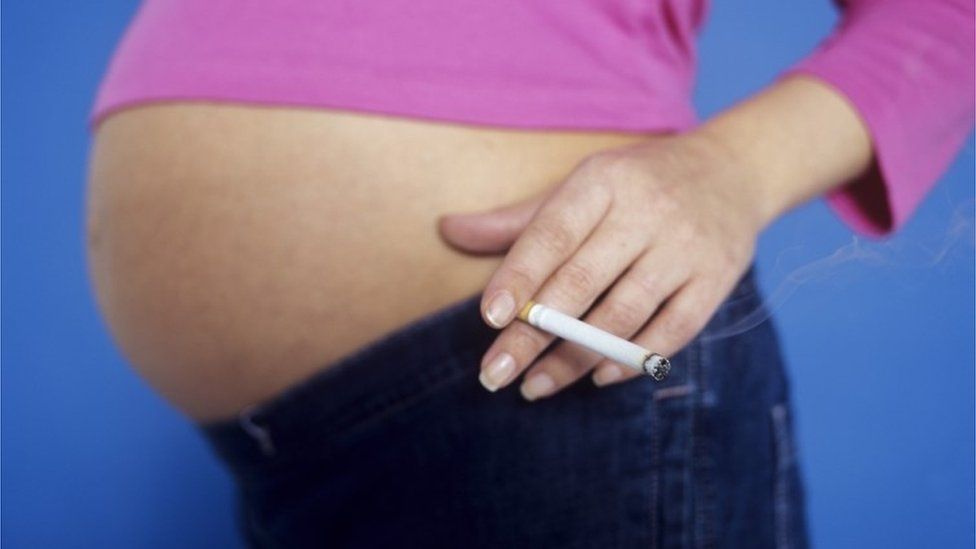 Pregnant women in Greater Manchester will be offered up to £300 in shopping vouchers if they give up smoking.
All mums-to-be will be tested for carbon monoxide from September as part of the BabyClear scheme, Greater Manchester Health and Social Care (GMHSC) Partnership said.
New mums will have to prove they have been smoke-free for 12 weeks after birth to be entitled to vouchers.
The TaxPayers' Alliance described them as "crude bribes".
The partnership said women who are still smoking at their dating scan, at about 12 weeks, would firstly be offered support and advice.
Those finding it hardest to quit and "vulnerable to relapse" would later be able to join the incentive scheme, it added.
It asks smoking mums-to-be to set a quit date, stay smoke-free throughout pregnancy and meet stop-smoking advisers.
Women will be offered a £10 voucher for every week they remain smoke-free, with a further £60 if they stay off cigarettes three months after birth.
Similar programmes have been put in place in Stoke-on-Trent and Tayside.
Jane Brewin, of baby charity Tommy's, said: "Everything we can do to help parents to quit and stay smoke-free is to be applauded.
"We need to help mums and dads to understand just how damaging smoking is for the baby and give them help and support to stop."
Francine Bates, from the Smoking in Pregnancy Group, said the service would help reduce inequality and "give children in Greater Manchester the best start in life."
However Alex Wild, of the TaxPayers' Alliance said: "For most mothers the health of the child will be a big enough incentive to stop smoking.
"Money that is spent on these vouchers is money that is not spent on front-line healthcare so the partnership will need to prove that it is getting results to justify these crude bribes."
Other aspects of the tobacco-free strategy include ending smoking outside hospital doors, creating more smoke-free public spaces and helping people to vape if they can't stop smoking.
Nearly 60% of the mental health investment will be dedicated to children and young people and there will be extra funds to help tackle dementia.
Related Internet Links
The BBC is not responsible for the content of external sites.