Man, 30, jailed for running Manchester pop-up brothels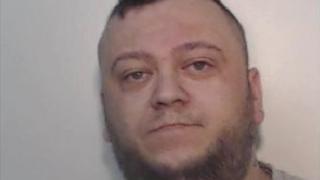 A man who ran "pop-up" brothels across south Manchester has been jailed
Alexe Popa, 30, of East Grove, Longsight, earlier pleaded guilty to controlling prostitution for gain and possession of false documents.
Police investigating human trafficking in October 2016 discovered he was running several brothels with "poor and vulnerable" young women who had travelled to the UK from Romania.
Popa was sentenced to one year and nine months at Manchester Crown Court.
He had posted adverts on adult websites promoting sex workers in Manchester and had taken the women's Romanian ID cards and mobile phones to stop them leaving, police said.
PC Andrew Shahhet said the women involved, aged between 18 and 26, were "young, vulnerable and from poor backgrounds".
"The successful conviction of Popa has helped dismantle illegal prostitution and so-called "pop-up" brothels across Greater Manchester, allowing us to now identify many that were previously unknown to police."
Officers had earlier investigated reports of a brothel at a flat in Longsight and found two Romanian women there with Popa later who arrived claiming he was just a friend.
Further brothels were later found in Rusholme.