Manchester Airport: Suspect's 'surprise' at pipe bomb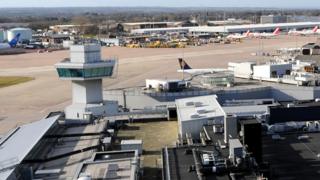 A man accused of smuggling a pipe bomb on to an airplane told a court he was surprised when police found the device inside a zip-lining in his suitcase.
Nadeem Muhammad, 43, of Tinline Street, Bury, told Manchester Crown Court: "I had never seen it before."
The jury previously heard Mr Muhammad was allowed to board a flight to Italy when the device was first discovered in the case on 30 January.
Mr Muhammad denies possessing explosives with intent.
The court was told the businessman was questioned by police at Manchester Airport and more than a week later in Italy, after tests showed the bomb was viable.
However on both occasions he was released and allowed to keep his passport.
The jury heard police and security officials did not believe it was a working bomb when it was seized from his hand luggage as he went through airport security.
Mr Muhammad carried the same case on 5 February on a flight to Bergamo, near Milan, from Manchester.
Three days days later, the device was found to be "potentially viable" as it contained nitroglycerine.
Mr Muhammad said police raided his home in Italy and workplace on 9 February.
Testifying through an interpreter, he said he was questioned by Italian police who told him: "When you were stopped on 30 January the item they found in your bag, there is some powder and some nails."
But he was freed after a couple of hours and his passport was not seized.
He was arrested in the UK three days later when he flew back to Manchester Airport.
Mr Muhammad loaned his suitcase in Italy to his brother-in-law who police seized if from in March.
Asked if the device had anything to do with him, he replied: "No, not at all."
He broke down in tears during his evidence when asked about his wife, who was sitting in the public gallery.
The court heard they moved to Bury, Greater Manchester, in about 2016 and made regular trips to Italy where he had a business supplying workers to a factory making alloy wheels.
The case continues.