Taking a bow for Shelagh's new play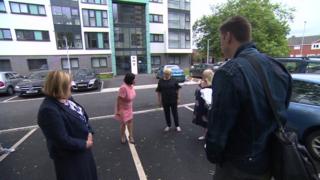 Nearly 60 years ago, a play called A Taste Of Honey by an unknown Salford writer put working-class issues centre stage and changed the world of theatre forever. Now, one of Shelagh Delaney's lesser-known works is being revived by people from the streets where she grew up - with the help of her daughter Charlotte.
When Charlotte Delaney was consulted about renaming a Salford tower bock Delaney Heights, she had just one question: "Was it affordable or social because I wouldn't have said yes if it wasn't."
Just like her mum, what matters to working-class people, matters to Charlotte.
Rebranding the former student block after Salford's best-known playwright has set in motion the revival of another of Shelagh Delaney's so-called kitchen-sink dramas.
On 7 September, Sweetly Sings The Donkey - adapted by Charlotte Delaney - will be performed for the first time on stage at Salford's Lowry Theatre.
And, with one exception, all the actors are untrained and from Salford.
Community theatre group MAD Theatre Company has worked with around two dozen residents of Delaney Heights and its sister block Adelphi Court since January, before whittling it down to a cast of eight with ages spanning 14 to 69.
Rob Lees, artistic director with MAD Theatre added: "The young people are all extremely talented but what is interesting is the adults in the play.
"We've got Karen Harford who works for Guinness Housing Association and has never acted before. It is the same with Julie Wray, a doctor of nursing, who's had to take early retirement from her job."
It's part of a larger research project called Shelagh Delaney - Feminism and Culture which Charlotte is collaborating on with her mother's biographer Selina Todd.
Professor Todd said: "Shelagh Delaney felt that, in a way, Salford had a poverty of aspiration - it gave them an education yet at the same time it said you working class people you should just live in shoeboxes. You should be content with having manual jobs."
The play, thought to be partly autobiographical, follows the lives of four teenage girls, from their time together in a seaside convalescent home to a reunion in their 60s.
"Mia Evitt, the girl who plays the young Lillian [ the character thought to resemble Shelagh Delaney], looks like a young Shelagh. She's gobby, she's got a lovely Salford accent, she's cheeky," said Rob.
Mia, who is just 14, said the mother character in A Taste of Honey reminded her of her "nan".
"I like acting in my own accent and not have to pretend to be posh. I don't want to write plays but I do want to be an actress."
Karen Harford, a housing officer who placed tenants in the refurbished Delaney Heights said it was "an honour" to be involved.
"I grew up on these very streets so it's quite a joy and a pleasure to be working with the residents for my day job."
She added: "Our hope is that the theatre group will help not only to mark Shelagh Delaney's contribution.. but build a sense of community both within this housing development and the wider Salford neighbourhood. "
A taste of Shelagh Delaney
Born in 1938 in Broughton, Salford, and died in 2011
Wrote A Taste of Honey in 10 days at the age of 18
The play premiered in 1958 and hit the West End a year later
Made into a film in 1961, starring Rita Tushingham
Delaney's image featured on The Smiths compilation Louder than Bombs
Elected a fellow of the Royal Society of Literature in 1985
MAD Theatre has plans to work with residents to produce drama that reflects their own lives once this play is performed.
Charlotte Delaney said her mum would be delighted with the way Salford residents have brought the work to life.
"The cast are very alive and they have a laugh," she said. And she has big hopes for the group beyond opening night.
"I want the people at Delaney Heights to be writing their own stories. I want working-class people to have their own voices and I want them to know that that is not just a possibility it is almost their duty because if they don't someone else will," she said.