Angelo Quirino: Family of boy crushed by gate 'devastated'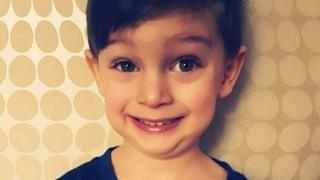 The family of a four-year-old boy from Manchester who died when he was crushed to death by an electric gate are "devastated", a friend has said.
Angelo Quirino, whose parents are Italian, died in the accident at a rented villa in Italy on Saturday.
Family friend Imma Totaro said the grief for his parents Amadeo and Roberta was "beyond words".
An online appeal has been set up by Ms Totaro to help raise funds for the family.
Ms Totaro said Angelo was playing with his elder brother Diego in Anzio when the gate fell on him.
"Roberta and Amadeo are devastated. I received an email from Roberta who said she can't even speak. It is beyond words," she said.
Ms Totaro said the couple, who have three children, came to Manchester three years ago.
"They had a little girl, Linda, eight months ago. Roberta was so happy that she had had a girl and now this has happened," she said.
Mrs Quirino was holidaying near relatives when the accident occurred.
Her husband, who works as a croupier in Manchester, flew immediately to Italy to be with his family.
"The flights are expensive at this time of year especially at short notice," Ms Totaro said.
"Such a thing should never happen to anyone. The community of moms in Manchester decided to raise funds to help."
'Sweet angel'
Mayor of Anzio, Luciano Bruschini, said the family's vacation "unfortunately turned into a tragedy that shocked our community."
The cause of the accident is being investigated by police in the city, a council spokeswoman confirmed.
Mr Bruschini said: "A sweet angel was here just to enjoy his time and suddenly a perfect vacation day has turned into tragedy.
"The city and all the population of Anzio is near to the family in this sorrowful moment."
Anzio is about 51km (31 miles) south of Rome.