Water firm fined £666,000 for River Medlock sewage spill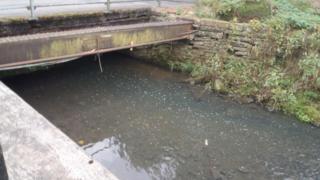 A water company has been fined £666,000 after admitting polluting a river with 21,700 cubic metres of raw sewage.
The Environment Agency (EA) prosecuted United Utilities (UU) after untreated effluent polluted the River Medlock in Ashton-under-Lyne in October 2014.
UU said a fault in a sewage tank caused sewage to enter the water impacting fish stocks and water quality.
A spokesman said they had "failed in our responsibility" but has since introduced new alarm procedures.
When the pollution was first reported by a member of the public, UU officers were investigating an alarm at the sewage tank.
They found a fault with a control valve which meant the tank was not emptying into the sewer as quickly as it should have been.
This resulted in untreated raw sewage entering Glodwick Brook and the River Medlock, depositing grey sludge over 4km (2.5m) on the river's bed at Park Bridge.
UU admitted its control centre was alerted to the discharge three days before, but the fault had not been recognised.
A report they commissioned found the incident had a detrimental impact on brown trout and had the potential to reduce the fish population the following year.
Manchester Minshull Street Judge John Potter said the firm's negligence had caused significant harm to the river.
UU wastewater network director Keith Haslett said: "We are making major environmental improvements, but we failed in our responsibility on this occasion.
"We have upgraded alert systems, introduced new alarm procedures and enhanced the control valve.
"This fine will be paid by shareholders and not customers.''
UU pleaded guilty to breaching the Environmental Permitting (England and Wales) Regulations 2010 at an earlier hearing at Tameside Magistrates' Court.
"The case demonstrates just how important it is that water companies and wider industries maintain their equipment in order to prevent pollution to the environment," said the Environment Agency.